Organic Lemon & Chia cereal bar
$36
The organic, lemon and chia seeds cereal bar can be your work partner as good as your training partner. 
. Before, during or after effort, this energetic and organic bar come along your strongest running. 
. During your work days, those bars provide a renewed energy, healthy and greedy.
The energetic and organic bar is the new healthy and greedy ally to your sporty activities. 
. This energetic bar combine hive power (honey and royal jelly), lemon antioxidant benefits and chia seeds 
. Made in France, organic, natural and gluten free, our cereal bar respect your organism and provide optimal digestion and assimilation by your body. 
. Crunchy texture and greedy size, ideal during the effort or a low energy moment at work.
GLUTEN FREE – BEFORE, DURING AND AFTER EFFORT – MADE IN FRANCE – 30G SIZE – GREEDY & CRUNCHY
In this organic cereal bar you will find :
• Organic honey, natural and digestible energetic content
• Organic royal jelly, with B3 & B5 vitamins to reduce distance tiredness
• Cranberry, superfruit, contains vitamins C, natural antioxidant.
• Pumpkin seeds, contains magnesium
• Organic and gluten free cereals for optimal digestion.
gluten free oatmeal*
Seed mix * 12% (sunflower * 9%, squash * 2%)
Cane sugar *
coconut oil*
cranberry* 7,8% (cranberry*, cane sugar*, sunflower oil*)
Powdered almonds *
Raisins *
Agave syrup *
Toasted hazelnuts in powder *
Cashew nut *
Puffed Rice *
Honey * 1%
Royal jelly * 0.2%
* : Organic product
For : 100g

Energy : 1873 kJ (447 kcal)

Fats : 22g

. of which saturated fats : 8,5g

Carbohydrates : 47g

. of which sugars : 25g

Dietary fiber :6g

Proteins : 9,7g

Salt : 0,02g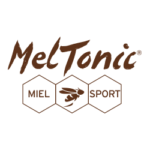 Brand
Meltonic